My next research project, tentatively "A Question of Freedom" in Post-Revolutionary America, looks at case files of African Americans in the District of Columbia courts and Prince George's County, Maryland, for the period 1720 to 1820, and chronicles the story of Mima Queen's historic petition for freedom from slavery which came before the U.S. Supreme Court in 1813.
Recent books, chapters, and peer-reviewed publications include: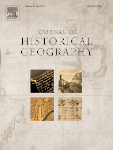 Railroads and regional labor markets in the mid-nineteenth-century United States: a case study of the Baltimore and Ohio Railroad," Richard Healey, William G. Thomas, and Katie Lahman, in Journal of Historical Geography Vol. 41, July 2013, pp. 13-32)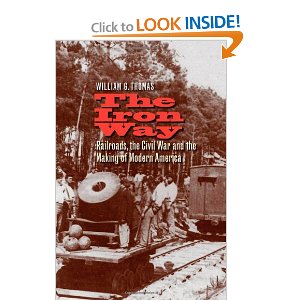 The Iron Way: Railroads, the Civil War, and the Making of Modern America (Yale University Press, 2011)
"'Swerve Me?': The South, Railroads, and the Rush to Modernity" in The Old South's Modern Worlds: Slavery, Region, and Nation in the Age of Progress ed. by Diane Barnes, Brian Schoen, and Frank Towers (Oxford University Press, April 2011)

"Interchange: The Promise of Digital History," in

The Journal of American History

, September 2008.


"Black and On the Border," co-author with Edward L. Ayers and Anne S. Rubin, in

Slavery, Resistance, Freedom

ed. Gabor Boritt and Scott Hancock, Oxford University Press, 2007.
"Nothing Ought to Astonish Us: Confederate Civilians in the 1864 Shenandoah Valley Campaign" in

The Shenandoah Valley Campaign of 1864

, ed. Gary Gallagher, University of North Carolina Press, 2006.

"Computing and the Historical Imagination," in

A Companion to Digital Humanities

, ed. Susan Schreibman, Ray Siemens, and John Unsworth, Oxford: Blackwell, 2004.

"The Differences Slavery Made: A Close Analysis of Two American Communities," co-author with Edward L. Ayers, in

The American Historical Review.

Lawyering for the Railroad: Business, Law and Power in the New South, Louisiana State University Press, 1999.

The Civil War on the Web: A Guide to the Very Best Sites, co-author with Alice Carter and Richard Jensen, Rowman & Littlefield, 2000.
Essays, Op-Ed articles, Digital works, and Other Writings:
History Harvests: What Happens When Students Collect and Digitize the People's History, Perspectives on History, with Patrick D. Jones and Andrew Witmer, January 2013.
The Civil War's 'Brother Artists'" in The New York Times, co author with Leslie Working, November, 17, 2012
Humanities in the Digital Age in Inside Higher Ed, co author with Alan Liu, October 1, 2012
Page 99 Test for The Iron Way, The Page 99 Test, October 27, 2011.
A Turning Point for Richmond: The Virginia Historical Society's Civil War Exhibition, June 26, 2011, Southern Spaces
"How Do We Remember Our Confederate History?" Roanoke Times, April 17, 2010.
"William Jennings Bryan, The Railroads, and the Politics of 'Workingmen,'" Nebraska Law Review, Vol. 86, 2007.
"What is Digital History? A Look at Some Exemplar Projects," with Douglas Seefeldt, AHA Perspectives, May 2009.
"Writing a Digital History Journal Article from Scratch: An Account,"

Digital History

, 2008.
"Shaping Nebraska: An Analysis of Railroad Land Sales, 1870-1880″ with Kurt Kinbacher,

Great Plains Quarterly

, Vol. 28, 2008.
"The Countryside Transformed: The Eastern Shore of Virginia, the Pennsylvania Railroads, the Creation of a Modern Landscape," with Brooks M. Barnes and Tom Szuba,

Southern Spaces

, 2007.
"Television News of the Civil Rights Struggle: The Views in Virginia and Mississippi,"

Southern Spaces

, 2004.